Born to Run and the Allure of the Natural
It is popular these days (and attractive to us runners) to believe that humans are born to run and that running is a natural practice that somehow lies prior to culture or is at least shared across cultures. Of course Chris MacDougall makes this case most vividly in the book
Born to Run
by connecting running with two things: the ancient "pre-civilized" culture of the Tarahumara and the remarkably fertile image of the bare foot. He gives us a picture of running as something at least in principle raw, pre-consumer, and innate. These qualities of running, especially as practiced by this primitive tribe, make it a possible practice of liberating ourselves from a decadent, insulated, sedentary Western consumer culture.
The bare foot is a particularly potent sign for this liberation. It is a double image. A bare foot reminds us of two contrasting feelings at the same time: the stinging pain of stepping on a sharp gravel
and
the bliss of digging the toes into soft and dewy grass. By offering the promise that we could actually run again on these feet, McDougall implicitly makes a deeper, more romantic promise: that the sharp, stinging pains caused by our over-cultured hypersensitivities could be replaced with a naturally connected foot that feels the ground beneath it without being pained by it.
[Side note: apparently it is possible to run on gravel without pain. Click this link to Barefoot Josh's video and see if you can watch without wincing.]
In other words, McDougall's implicit claim is that the natural state of human life is at one with its environment, and civilized culture, represented by the dainty and necessarily shod foot, has led us to a life that feels as if we are picking our way through a gravel field on underdeveloped feet. This is how the Tarahumara and the bare foot, the two stars of
Born to Run,
work together: the aboriginal, natural (and fragile) Tarahumara are the cultural equivalent of the bare foot. While each of these are naturally resilient and well-suited to their environments, the encroachment of contemporary culture has made them unnaturally fragile.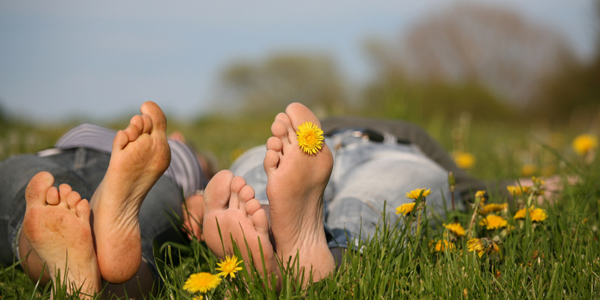 The fact that this book is so popular, even among non-runners, demonstrates that this narrative speaks to us. The shoe stands for culture. The effect of culture is to essentially damage and disrupt a natural body that works well enough on its own. The key to living well is to cast off culture and return to a more natural way of life. Readers of Rousseau will recognize that this is not a new argument. In the first chapter of
Emile
, Rousseau makes essentially the same argument about bourgeois culture, except his favorite article of clothing is not the shoe, but swaddling clothes, which inhibit the natural movement of the infant and essentially prepare it for a swaddled life of middle-class slavery.
As many of those who have tried out minimalism or barefoot running (or researched more fully the details of McDougall's book) have found out, however, MacDougall's account of the bare foot and the Tarahumara is more mythology than reality.
Born to Run
, as a narrative, is afflicted with the sensationalism, exaggeration, and hyperbolic claims that are both causes and effects of contemporary culture being out of whack with its environment. The very things that make it popular--its huckster spirit, its fools gold promises, its larger than life characters, its heros and villians--are part and parcel of the decadent, expanding, strip mall marketing culture that it criticizes.
In short,
Born to Run
is not so much critical of culture as it is a product of culture. Once we realize this, we begin to see that the difficulty of returning to nature and the body (or at least of living well in nature and in our bodies) is much more complicated than mythologizing the life of the Tarahumara or the qualities of the bare foot. In fact, the very mythologizing, looking for simplified images in response to respond vastly complicated problems, is symptomatic of our culture's insensitivity to the environment. We want our problems to have a natural and simple solution so that we can get over our sensitivity, quit tiptoeing our way through life, and get to some sort of "natural" and worry-free state that feels a little bit like the way grass felt beneath our feet as children. The only problem with a natural and worry-free state is that it is profoundly unethical. Childhood (or at least the popular image of childhood) is natural and easy--
because it has no responsibilities.
The basic problem with the return to nature argument is that it assumes that the natural state of human life is happiness. Rousseau made this assumption clear from the outset. He believed that the natural state had to be happiness because he believed that the universe was created by a benevolent deity. Post Darwin, this is a harder premise to buy. Physics and biology tell us that the natural state of things is indifference. Psychology shows us that the natural state of the human mind is to swing easily among various moods, and that some of us, perhaps even most of us, even tend naturally to melancholy states. All things considered, we do not tend to peace and happiness. These things come through effort and chance.
The universe doesn't give a damn.
The popularity of
Born to Run
shows that we have not yet made peace with a post-Darwinian view of the natural. We want to believe that culture--basically, from the point of view of nature, a series of human errors--is what makes us unhappy. If we could return to a natural state, somehow undo the errors that have accumulated through time, then we could find a native attunement, a natural happiness that is perhaps something like being at one with the creator of the universe. A feeling not unlike digging one's bare toes into the natural soil.
This line of thought paints culture as unnatural. For human beings, however, the most natural thing is to live in a culture--to make choices, to build tools, to communicate, hope, dream, and criticize. This is our natural state. To believe that happiness is found through a rejection of culture is itself a cultural idea, dependent upon cultural premises that are deeply flawed because they pit nature against culture. Culture cannot be cast off, like a pair of shoes. The challenge before us is to continue to refine and remodel--the pragmatist word is "reconstruct"--our cultural ways of living. Nature gives us no pure models to imitate. It only gives us an environment to live in. The problem is not how to return to nature but, as cultural animals, how to construct a culture that can co-exist harmoniously
with
the nature in which we find ourselves.
This is long, hard work. Interminable, actually, as the conditions of both culture and nature are constantly changing. This is what makes the shortcuts so tempting. We want to throw culture off entirely, romanticize the primitive, pretend we are "born to" do this or that. The reality is that we are born for suffering as much as for happiness; we are born to balance them as long as we can stand it; and we are born, eventually, to succumb to age, to injury, to death. What's natural is to be born, to grow, to decay, then to die. The natural, really, is a bummer.
But finding a happiness that is more than escapism requires dealing with bummers. We will never replace the sharp rocks of life with grassy meadows, and we will never eliminate pain from life. We are not born to run. We
make
ourselves runners, for a time, with effort, if we are lucky. In the same way, we are not born to happiness. We have to make it and remake it.