Blood in the Heartland: The Adidas Invite
[Editor's note:]
I had just put on my flats for that most glorious of runner's runs, the October morning tempo. The brilliant fall leaves out my window brought to mind the flashing of spikes and the copper taste of hard effort that we runners associate with the season. I opened the door and was slammed by the stench of stale whisky. There was a bottle laying there with a note stuffed inside. In the bushes were scattered loose papers. Apparently the good doctor RVT had dropped by during his daily stupor and left me a gift.
I picked up the bottle, shook out the note, and deciphered the scrawl:
"If Weldon and Robert are too shaken by our Fear fiasco where we had to tell Various lawyers to climb back in their ambulances and read up on Defamation law, we can always shop this piece down our Purple Cow pipeline to fellow Eph Tim Layden at Sports Illustrated. I'm sure they have a battery of lawyers bigger than Penn State's attorneys in the Paterno pool."
It took me a few days and a few drinks, but I was able to get the pages together in rough order. It was a report from Dr. RVT's recent trip to the Adidas Invite -- the pre-eminent college XC meet. As always, it is difficult to separate the mad ravings from the actual facts. But that's life. The truth doesn't take its hold direct.
* * *


Here we go again. I was 30,000 feet above Mad City when the Adderall began to take hold. This was gonna be a blitzkrieg of a trip - in and out within 24 hours- but little did I know what a war zone it would turn out to be when the spike dust cleared. For such a lightning strike trip where I knew sleep was not an option, I needed to call in the Panzer Division of drugs that my cancer doc was willing to deal me: amphetamine salts. Yes, concerned parents, that is the real name for the learning meds you foist upon your children.
My bosses, the Texas Twinkletoes Twins couldn't be bothered to personally cover The Biggest Meet of the Collegiate Cross Country Season, so they mumbled some excuse about Rojo's wedding the next day and also wanting to get press passes to the VP debate to ask Paul Ryan if he really said, "I coulda beat that midget Ethiopian at the Chicago Marathon if I hadn't followed Kip Litton and taken a wrong turn shortcut."
As my usual per diem request, they provided me with provisions of whiskey and dope. But it wasn't the weed that caused my head to spin as I stepped off the plane in Wisconsin. It was the smell of cheese. One of the fun side effects of the 10,000 dollar a month chemo pills I swallow each day is an ultra-heightened sense of smell. I could hire myself out as a sniffer dog for the customs officers at airports. It'd probably pay more than this crummy journo gig.
I needed to get to the bar that my buddy and creator of this ungodly meet, Mick Bryne, had reserved to entertain his guests, the best cross country coaches in the nation. The joint is called Brocach's which is Gaelic for "Badger's Den." The pub is owned by two Dartmouth guys and it's a safe bet they are not gonna let that loser Andrew Lohse past the bouncer to throw up on people like he bragged about doing in his Poser frat at Hanover.
What drew me out here was Mick's brainchild, the Adidas Invite, where every cross team worth its oxygen comes to test itself against the best and brightest. The fookin course is a dream, a true "Dedicated" XC course: spectator friendly, wide open, perfectly groomed. Although Pre-Nats, a chance to preview the National Championship course in Louisville "nowhere" Kentucky is this exact same weekend, most programs snub the affair or send their B teams to Kentucky. Wouldn't you? I wouldn't let a healthy athlete enter that state if I could help it. But perhaps my distaste stems from their distilleries as much as it has to do with a bitter and twisted series of events at the Derby that has sourmashed my mind. But that was another story.
Yes, anyone with any real brains goes to Wisco. Why, you ask? To chase points, you fool. Yes, CHASE POINTS. That is the name of the NCAA game. That governing body, in all their infinitesimally small wisdom, has devised a process by which teams can get invited to the 31 slots available to the National Meet. Forget March Madness selection. That is child's play compared to Cross Nationals inclusion. This method will make your head spin. It requires the mind of a Wall Street derivatives broker to explain it to a normal person. Even CEO's at Morgan Stanley, JP Morgan , and Morgan Uceny (no Yank too Big to Fall) are at a loss to when you confront them with this NCAA algorithm. It would take a footnote the size of USADA 's 202 page indictment of Lance Armstrong to bring you up to speed on this equation, but suffice it to say that it took 32 hours after the last NCAA XC Regional to determine the final invites to The Big Dance.
Screw this math, let's get to the bar. We were all awaiting the Big Questions for the weekend: will coach A arrive with a new tattoo? Will coach B show up with jailbait on his arm? Will coach C finally change his name so his moniker doesn't sound like a Harry Potter house elf?
Of course no coaches that I can name drank anything containing alcohol. So if you are a collegiate Compliance officer, you can stop reading now and go back to your cubicle hovel and continue looking for ways to punish your school's distance runners just because you are pissed that the University's star quarterback drunkenly drove his alumni-bought BMW through your living room wall, killing your Golden Retriever in the process and the college told you keep it hushed. Over Cokes and Sprites, a collection of the best minds in the business laid down bets in the Points For Pints game. If my guys beat your five and you end up auto-Q at your Regional, I'll owe you a pint at Nationals. God, I hope no compliance cranks show up at the Louisville bars. There'll be hell to pay -- and it might be for throwing a comp-nerd through a window.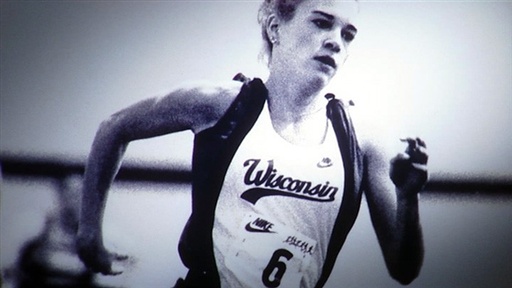 There are other compelling reasons to make a pilgrimage to Madison. Reason number one: Suzy. Reason number two: Favor. Reason number three: Hamilton. Forget the multiple National Cross Country titles throughout several decades. Forget that former Badger mentor, Jerry Schumacher, now has a stable of Wisco pros to drool over: Solinsky, Teggencamp, Bairu, and Jager. Forget all that. But don't forget Suzy Favor Hamilton. This Battling Badger may have looked for all the world like a blonde Homecoming Queen, but on the track she would break your ribs and puncture your lungs. She brought Euro-style barging and full body contact to the US college scene. Lots of people were not happy, especially the Emergency Rooms. Long live Suzy!
In my sober moments, which aren't often, I tell myself the real reason I'm here is to witness one of the last pure sports available in college athletics. We are not counting water polo, wrestling, golf and other sports where the object of the event is to put spectators to sleep. In Cross, there are no fatcat alums to give these harriers a Cadillac, no pushy dads getting kickbacks as signing bonuses, and certainly no hookers provided on recruiting trips. Shame about the last bit. Skinny high school distance geeks get no action and they darn well deserve some! Lastly, there sure ain't any One-and-Done clowns. Ok, we won't count Webb and Jager.
Gratefully, Mick knows what he is doing and schedules the meet to go off at noon so we can sleep off our Cokes and Sprites. In the hotel breakfast room, I gulp coffee with all the Ivy grads who are doing a fifth year at Texas. Princeton, Cornell, Dartmouth, pick your Ivy; they all end up In Austin, where they get those dime-sized ear plug earrings. I guess if you are a nerd all your life, you bust loose by listening to ZZ Top and dreaming of going to Texas and piercing like a badass. Then you go make triple figures on Wall Street. But how are you going to explain those gaping holes in your lobes in your Goldman Sachs interview? Our HEPS reunion reverie is broken by Defense Secretary Lou Panetta coming on the news and warning us of cyber attack on America the scale of Pearl Harbor. Yeah, yeah, blah, blah. We had more important worries: who would garner golden points today?
The course is a fan's wet dream. You can watch all the moves from the "Spectator Burm." You hear announcer updates, informing you of team scores as they fly across timing mats in their electronic chips strapped on to their spikes. Whatever happened to handing out numbered Popsicle sticks at the finish? I was about to find out. In a big way. But that comes after the flawless
femme fête
.
For all those Letsrun chicks, all two of them that read those puerile wanker boards, who decried me as a male chauvinist pig, I will say something about the girls'...I mean Women's meet. A true freshman... Er, I mean frosh or freshwoman ... From Cal Poly went out hard, looked over her shoulder and screamed, " Fetch this, bitches!" and blew away the loaded field. The announcer told us she was a "true frosh." What is a False Frosh? Or would she be an Untrue Frosh, meaning she cheated on her boyfriend? My favorite team was Vanderbilt who wore pink singlets in honor of Breast Cancer Awareness month. How cool is that? I cajoled a dumb-struck boy to snap a picture of me with one of the Vandy gals after she picked herself up off the ground in the carnage of the finish line paddock. I got her cell phone number.
I readied myself for the next race, arguably bigger, badder, and more bloated than the National meet. There would be teams here that won't make it to Nats but would rip your head off in some D1 Conference champs affair. We are talking Braveheart. The ground literally shakes as four hundred horses thunder off the line. Problem was today, they didn't thunder; they dawdled slower than the Olympic 5k Final that resembled a bad d D3 women's meet. We are talking 4:55 thru the mile. It was such a slow start, the fastest miler in the field, Kyle Merber, couldn't run that slow. His body got confused and he fell over himself. Other guys were stepping on one another, punching opponents, swearing revenge at a later date. The Suzy Favor Hamilton effect.
Basically, if you're looking for results, here's what happened. Some good teams ran well. Some other good teams shit the bed. And some teams didn't even belong in the meet. For all I know, the Nebraska team is still out on the course. As for individuals, we have a similar situation; a couple of Kenyans who were airlifted into Arizona chatted one another up as they ran away from everyone. Several promising studs fell down and turned tits up. A few Ivy Leaguers questioned their Wall Street worth as they wondered aloud, "what the fuck am I doing at this meet?!"
The race rolled, the runners ran. Everything seemed white bread normal in the Heartland. Then the terrorist struck.
Lou Panetta was right. I've always thought Al-Queda leaders were dumber than a stick. They think, "America...New York, New York, New York." Stupid. Hit the Heartland instead. Strike fear into the seemingly safest meat and crops of America. It happened at Wisco and the media missed it. A compu-code hacker assaulted the most important meet of the season. This cyber- villain short-circuited the timing chip system. Haywire is not the right word for the confusion that broke out in the scoring. Greece would be a better word.
When you have twenty runners crossing the line within a two second span and Big Dance points on the line, you have a problem. Coaches had to ask their athletes to try and remember or guess their finishing time. Some poor sod had to go to the video and try and match those marks with visual shots. The huge and beautiful digital scoreboard was spitting out "unofficial results" for teams that had as much truth to them as Paul Ryan's claimed marathon time.
What most spectators and Letsrun "pundits" missed was the strategic mid-season gamesmanship going down. Quite a few coaches held out several runners. In doing so, they wouldn't reveal their full hand till the Conference or Regional meets. Even the Cover Story on Letsrun bemoaned, "Oh My Gawd, Number One Ranked Wisconsin Finishes 17th!" I can't give away the workout that Mick's Canadian 10k Olympian Mo Ahmed did that very morning, but it was not for the squeamish of feint-hearted. Let's put it this way, the Arizona Kalenjin duo won't be holding down a conversation at Nationals.
Essentially, this race sets us up for a heckuva smackdown in Louisville. Even some teams that chose to risk Redneck Flu by entering the state of Kentucky, look to be threats at Nats. Guru Ponytail Philosopher Wetmore has his Boulder Buffs ready. OSU's Smith has once again distilled the waters of Stillwater, making his guys potent proof. BYU's Eyestone is riding a Romney Mormon surge at the Prize. [I can't resist a codicil here: if some proselytizing Mission Year Mormons sweetly knock on your door and want to talk, tell them you will give them all the time in the world if they can name Three Great Mormon Distance Runners. I actually did this. I'm not kidding. Can you name them? Olympians, big dog college coaches and a former Steeplechase record holder.]
Back in Mad City, everything was getting weird. Despite the fact that I was on a prescribed learning disability drug, I didn't have the wherewithal to figure out this scoring madness. Gaunt men with bad tempers were yelling at each other, and I was tweaking bad. I got outta Dodge before someone killed someone.
Mick texted me as I was at the airport. Said, "bad day at da office. Do you have a couch I can sleep on and hide out at your place for a while?"
Always, my brother. Just bring our friend Glenn. Fidditch.