Honest Work
My grandfather died last night.
He was the son of a muleskinner and watermelon farmer. His family were tenant farmers, and he grew up on the banks of the Nolichucky river, upper East Tennessee. They worked for a place to stay and the food they ate. My grandfather was a boy during the Great Depression, and he used to tell me stories about cleaning a riverbank for a nickel a day. There were a lot of brothers and sisters, and they all raised each other up. We talk about the nuclear family these days, but their family unit was more like a patch of blackberries, thorny and wild.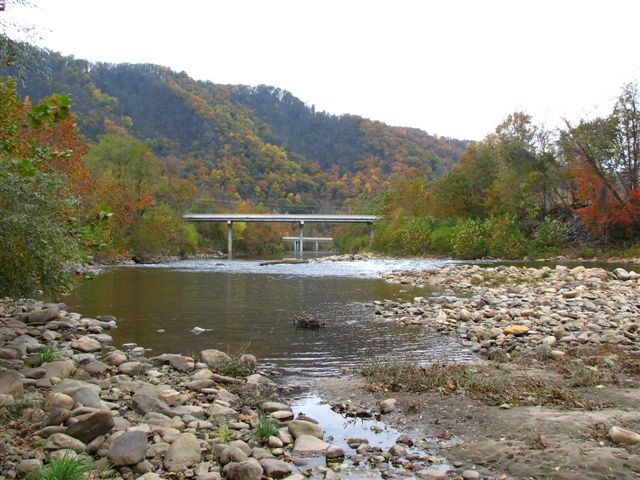 The 'Chucky.

So, my grandfather learned to be independent from an early age. One summer day when he was 12, he rode his bike to Knoxville about 40 miles just to see what he could find. He'd fish the rivers with his brothers and talk about walking down the frozen creeks sometimes to school. He didn't go to school much.
In World War II, he went into the Navy and rode a big boat into the South Pacific. That's what got him out of the back Appalachian hollows tenant farming. He saw a big world, met people from all over, and he came back to Tennessee after his tour and became a vacuum cleaner salesman. He met my grandmother, too.
From there, he wound his way down to Chattanooga. He must have saved a little cash or got a loan or something, but he bought land where no one else wanted it and he put some trailers on it. He rented them out to folks like him. Poor, hard folks who moved to follow work. He was good at it because he knew them. He could get them to pay the rent before they bought whiskey. He also bought an old motel on the side of a hill: Glendale Courts. It had tiny rooms he would rent out. When my brother and I were young, we would spend hours in the office, watching the people come in, playing with Grandma's typewriter.
With the money he made, he sent his three children to college, and they all earned degrees, one earned a masters, and another a Ph.D. He told me that the most important thing in life to have was an education. He didn't have an education.
But of course he had an education. That wild and hard youth he had taught him to be independent, to be stubborn, to take what he could. It taught him the dimensions of things, the effort that things take. He never learned to live easily.
It was his lungs that killed him. He'd worked in an aluminum plant sometime back early in his life, and since then his lungs had always bothered him. He was always spitting up something. So his last days were spent with lungs failing, dependent on oxygen. When he would feel strong, he'd always ask to go out to the job site. He wanted to see people working, wanted to be part of the action, wanted to continue carving out his stubborn place in the world.
Everything he built, even his home, was on the side of a steep hill. That's where he liked it--the places that other folks thought weren't good enough.
He had the brightest blue eyes. He was five feet tall. His hands were knobby and hard, like old wood. His right shoulder was all bunched up from jerking on things. I've heard that he was hard on his boys--he made them dig the sewer lines in the trailer park. I did my family duty over there, too, mostly weed-eating the steep banks on hot days. But when I knew him he was the gentlest man you'd ever meet. After Grandma died, he'd go out dancing at the VA about every chance he could. His favorite music was Motown, and he'd turn it up loud in the kitchen. He was 89 years old.
What I love most about my grandfather is that he loved to work, and I think in small ways my running comes from the same place he came from. The simple need to work. Work is like a watermelon seed. You'd never know such a sweet, rich, and heavy life could come out of a small simple thing.
It can.