From Adorno to Iten, Some Scattered Thoughts
I can't seem to settle on a topic today, so here are four quick things I've been thinking about.
1) I ran a really nice workout today. For the first time in a while, I didn't run it solo. I ran 800s with a buddy, and we traded the lead on each interval. After the 800s, we ran some 200s, and I surprised myself by finding some speed in these older legs, hitting 28s on a couple. The track is public, and there were some kids out playing soccer watching us old guys hammer around the track. One of them, a 16 year old, jumped in and tried to hang for one lap of one of the 800s, and he only kept contact for about 100 meters. I guess that made me appreciate the gift of being fast and strong.
Spiked up and psyched up, baby!
2) I have been reading some Adorno, just snatches here and there from
Negative Dialectics
. He's good for a pragmatist like me to read, because he reminds us that the task of a philosopher is not always to connect with culture; sometimes we have a duty to be misunderstood--especially when dominant forms of understanding are totally whacked. It takes courage to persistently seek
misunderstanding
.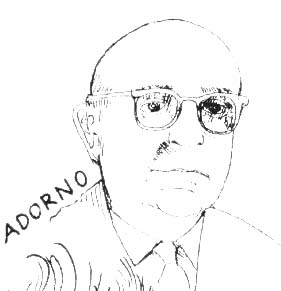 3) A recurrent theme of this blog is the idea of reconnecting with experience through the organizing practice of running. I guess I am sort of discovering that this is the problem I am most interested in as a philosopher. It came up today in a conversation with a student. I only know how to put the claim in a grandiose way: it seems like the problem of contemporary, American, 21st century life, is the difficulty of
even having an experience at all
. Isn't this what we mean by the term "depression"--the fact that experience seems to come at us through a sort of gauzy haze, or does not even come at all?
DFW, greatest writer of the last 20 years, was all about the foot-note quality of experience:
frustrated, tedious, delayed, deferred. At his best, he made these qualities magical.
As you probably know, he was clinically depressed and killed himself a few years back.
[If you click on the comic, it gets bigger so you can read it.]
4) If you have an hour on your hands, I highly recommend this documentary featuring the Irish miler Eamon Coughlin in Iten, Kenya looking at the reasons behind Kenyan running success.
Man On A Mission
from
jamieleedalton
on
Vimeo
.
In it, Brother Colm O'Connell details his approach to coaching some of the greatest Kenyan runners the world has seen. If you don't have an hour to watch the video, the guy talks about running as an individual practice of control, discipline, and virtue, and a community process of setting standards of excellence. Never once does he mention a physiological effect that he is trying to produce. He has a cool acronym for the basics of training:
F - Focus - the ability to concentrate the mind
A - Alignment - what you might call "body focus"
S - Stability - control of the core and the hips
T - Timing - the quick and well-placed footstrike
The video is very well done, and it is easy to see why the Kenyan athletes excel. It's also easy to see what makes Colm O'Connell a great coach; he instills calm confidence into his athletes and understands how to keep his athletes focused on the simple qualities of excellence.